Key takeaways:
Canada is prepared to retaliate if the US hikes duties on Canadian softwood lumber producers, according to Deputy Prime Minister Chrystia Freeland.
Trump used a provision in US trade law that enables penalties if the US sees a national security threat.
Deputy PM Chrystia Freeland said Thursday that Canada is prepared to retaliate if the United States raises tariffs on Canadian softwood lumber producers.
"We'll do exactly what we've done successfully with two previous American administrations: we'll present our argument clearly and sensibly.
We also state unequivocally that Canada is willing to retaliate to protect the national interest. "In response to criticism in the House of Commons, Freeland stated.
Conservative foreign affairs critic Michael Chong claimed the Liberal government fails to counter a series of restrictive trade policies proposed by US President Joe Biden's administration. 
Also read: As more rain falls on southern British Columbia, an evacuation alert is issued
He was among the Conservatives who slammed the Liberal government, which is under fire for a growing list of trade irritants with the United States.
Freeland didn't go into detail about what kind of punitive measures would be considered. But she was referring to Canada's arduous battles with the previous Trump administration, which slapped harsh double-digit tariffs on Canadian steel and aluminum during the renegotiation of the North American Free Trade Agreement in 2018.
Trump invoked a part of US trade law that allows tariffs if the US perceives a national security danger.
Canada retaliated with dollar-for-dollar tariffs on American steel and aluminum and a variety of other goods ranging from whisky to toilet paper to motorboats.
Even though Democrats are generally more protectionist, there were great hopes in certain sectors that a new level of trade equilibrium would be established between Canada and the United States with Trump's departure and the advent of the new Biden government.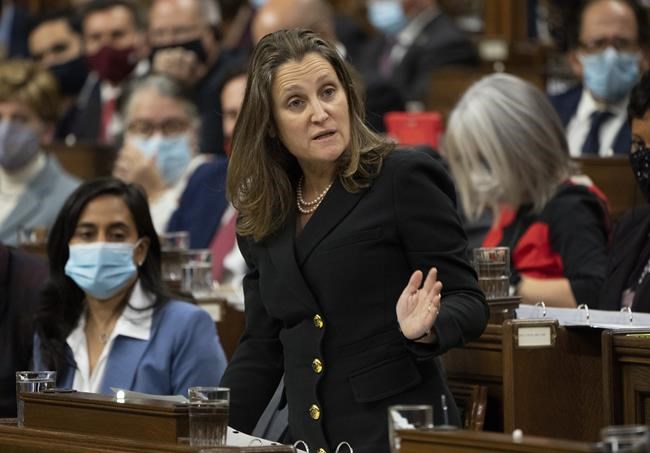 As a result, Chong enumerated a slew of protectionist woes on Thursday, including a proposed electric vehicle tax credit that threatens Canadian auto sector jobs, the resurgence of "stringent" Buy American procurement policies, and "measures targeting our dairy farmers, actions against pipelines that have contributed to skyrocketing energy prices, and now a doubling of softwood lumber tariffs."
According to the US Department of Commerce, the ultimate combined anti-dumping and countervailing duty rate for most Canadian producers will be 17.9%.
This is slightly lower than the preliminary rate of 18.32 percent announced in May, but it is more than double the starting figure of 8.99 percent.
"It's evident that Canada's standing in Washington has deteriorated," Chong said of Prime Minister Justin Trudeau's hoped-for repaired connection with US President Joe Biden.
During the question period, Chong said, "It's evident this prime minister doesn't have a close working relationship with the president," and asked Trudeau what he meant to do about it.
Freeland retaliated by raising the threat of retaliation.
Mario Simard, a member of the Bloc Quebecois, claimed that Canada's largest trading partner was suddenly acting like an adversary.
"People used to say Trump was the issue. Today, it's Joe Biden's turn. And we're dealing with the same issue, "Simard stated.
When International Trade Minister Mary Ng traveled to Washington last week for meetings as part of the North American Leaders Summit, she brought up the planned electric vehicle subsidies.
Source: CTV News
Get Canada and New Brunswick News's top News, Market news, and other worldwide news only on New Brunswick Tribune.