Key takeaways:
Thousands of animals are still in danger, and many humans have been forced to flee their homes.
Farmers are reportedly frantic to get back to their farms and livestock and are bypassing road closures.
Following a tragic mudslide on Highway 99-Duffey Lake Road earlier this week, RCMP in British Columbia revealed Thursday that four persons are still missing.
The slide claimed one woman's life from the Lower Mainland, but the BC RCMP stated Thursday that the death toll might grow.
They stated that the four people who have gone missing are all connected to the slide area that occurred north of Pemberton on Monday afternoon.
More than 1,000 individuals who had been stuck in Hope were able to depart on Wednesday evening and Thursday morning, going west to the Lower Mainland.
Also read: P.E.I will manufacture mRNA vaccine
However, Public Safety Minister Mike Farnworth said Thursday that it would be "a considerable amount of time" before routes in the province reopen.
Many people have been forced to flee their homes, and thousands of animals are still in danger.
"There will be a lot of difficult days ahead," Farnworth predicted.
Flood-affected farms began receiving food and water on Thursday, according to Minister of Agriculture Lana Popham.
She noted that emergency teams could arrange helicopters to dump containers on the farms, which were then charged with water.
On Wednesday, getting feed was a problem, but Popham said some feed in the Port of Vancouver was supposed to go to China but ended up in the Fraser Valley.
Farms in the United States have also offered assistance, according to Popham.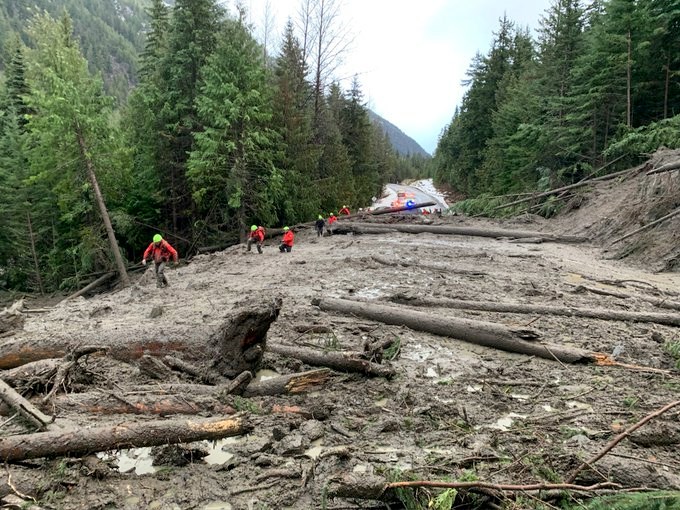 According to the province, farmers are reportedly frantic to get back to their farms and livestock and are bypassing road closures. However, Popham acknowledged that the situation was extremely tough and attempted to reopen the roads as soon as possible.
Major routes across the province were closed on Thursday as evaluations and repairs were carried out to get them fixed as soon as possible.
Due to the flooding in Abbotsford, 600 people have been evacuated. This includes 11 people who were rescued in the middle of the night.
According to Abbotsford Police Chief Mike Serr, there are still 40 persons in the Sumas Prairie evacuation order area.
Water from Washington state's Nooksack River continues to flow northeast through the Sumas Prairie, according to Mayor Henry Braun, and water levels continue to climb to the east of the prairie.
Braun also stated that the Barrowtown pump station, which is dealing with a flood from the Nooksack River, is operating at full capacity but has so far held up.
Meanwhile, qualified British Columbians in the province's southwest, central, and southeast regions and Vancouver Island can apply for Disaster Financial Assistance.
The cash help is for anyone impacted by flooding and landslides between November 14 and November 16, 2021.
Source: CBC News
Get Canada and New Brunswick News's top News, Market news, and other worldwide news only on New Brunswick Tribune.