Key Takeaways:
Three more people in New Brunswick have died from COVID-19, and three more people aged 19 or younger were admitted to the hospital on Thursday.
According to Vitalité, COVID has resulted in a "high" number of hospitalizations as well as the layoff of healthcare workers.
Patients and designated support people entering Horizon and Vitalité centers will be asked COVID-19 screening questions for the time being.
As the province is all set to lift all COVID restrictions next Monday, 3 further New Brunswickers with COVID-19 have died, and 3 people aged 19 or younger were admitted to hospital on Thursday, including the one who requires intensive care.
The number of individuals admitted to the hospital and those admitted to the intensive care unit (ICU) continued to rise.
Following the extraction of Public Health restrictions in the community, both the Horizon Health Network and the Vitalité Health Network have announced that their hospitals and healthcare centers will remain on red alert.
"It's critical to keep these measures in place as an additional safeguard for the healthcare system," Horizon president and CEO Dr. John Dornan said in a statement. "New Brunswick continues to see significant daily case counts and hundreds of our healthcare staff unable to report to work following a positive test."
COVID has also resulted in a "high" number of hospitalizations as well as healthcare workers being laid off, according to Vitalité.
Also read: Drivers in New Brunswick are weighing their options in the face of sky-high fuel prices
According to the province's COVID-19 dashboard, the seven-day estimate of COVID-related ICU bed occupancies risen to 11 from nine on Thursday, while the seven-day estimate of COVID-related hospitalizations risen to 94 from 93.
ICU occupancy increased to 72 percent from 69 percent across the province, while hospital capacity remained 90 percent.
According to the dashboard, 596 healthcare workers throughout the province are being isolated after testing positive for COVID-19 on Thursday, 17 more than on Wednesday. It's unclear whether or how many other people are isolating as a precaution.
352 of them work for Horizon, 176 for Vitalité, as well as 68 for Extra-Mural and Ambulance New Brunswick.
In a status report, Vitalité stated, "It is critical to protect the most vulnerable individuals and our healthcare workers." This is why the healthcare system's protection measures must be lifted "gradually and also carefully," according to the report.
"Horizon and Vitalité say they are trying to manage the condition and are actively transitioning back to its normal state," Premier Blaine Higgs stated on February 24 when announcing plans to remove all measures by March 14.
When asked about that statement on Thursday, Higgs admitted that the number of unemployed healthcare workers "continues to be a problem" and is "very concerning."
"I find that difficult to understand as well," Higgs said, implying that the problem isn't solely due to COVID. "The system has a lot of absenteeism," he said, citing overwork, fatigue, and stress as reasons.
According to the province's dashboard, all 596 are "healthcare workers positive for COVID-19 and isolating," according to the province's dashboard.
Before COVID, the hospitals had high occupancy rates, according to Higgs.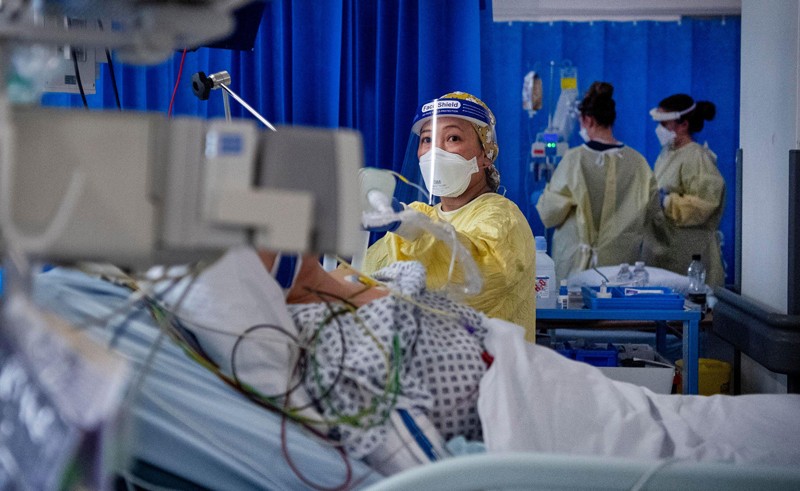 The company's red status will be maintained "until further notice," according to Vitalité. According to the statement, it's keeping a close eye on the situation and working with the Department of Health and the Horizon Health Network to figure out what to do next.
In a press release, the Department of Health stated that access to healthcare facilities, such as hospitals, has always been subject to infection prevention control measures, or IPC.
"As the risk within hospitals decreases, these IPC measures will change and evolve and will be communicated by regional health authorities," it stated.
For the time being, patients and designated support people entering Horizon and Vitalité centers will be asked COVID-19 screening queries. They will be required to disinfect their hands, wear a medical, KN-95, or N-95 mask, and maintain physical distance.
Visitors from the general public are still not permitted.
"The virus has not left the province," Dr. Yves Léger, acting deputy chief medical officer of health, said in a statement. "But as we move ahead, I am confident that we can use the lessons we've learned throughout this pandemic to manage our risks and protect ourselves and those around us."
He credited the province's ability to remove the mandatory provincial restrictions at 12:01 a.m. Monday to "ongoing management of our hospitals," vaccination uptake, and also the commitment of New Brunswickers over the previous two years.
According to the news release, Public Health will continue to offer advice and guidance on how individuals can reduce their risk, as well as COVID-19 surveillance.
"They will notify the public when there is an increased risk of the virus spreading, similar to how other communicable diseases are handled," it said.
Source: CBC News
Get Canada and New Brunswick News's top News, Market news, and other worldwide news only on New Brunswick Tribune.