Key takeaways:
The Edge wore a mask to see the Rolling Stones perform recently, allowing him to remain unseen.
Van Eaton Galleries in the Sherman Oaks district of Los Angeles is now displaying several of the works.
When The Edge went to see the Rolling Stones perform recently, he wore a mask that allowed him to go unnoticed as he sat in the front row watching guitarist Ron Wood.
"If you're a renowned face, it's like a cloaking device," the U2 guitarist recently told The Associated Press while promoting his Music Rising charity and its Dec. 11 auction of legendary guitars and other rock memorabilia to fund New Orleans musicians impacted hard by the virus.
"Ronnie has generously contributed a stunning guitar to our auction. So, I was ecstatic, "he stated
The foundation was founded by Edge and producer Bob Ezrin in 2005 in the aftermath of Hurricane Katrina to replace instruments destroyed in the flood. It found a new mission when the virus had taken hold.
Also read: Canada's immigration minister said he wants to examine the 'issue' of bias and discrimination
"We want to try to resurrect the live music scene in areas where it has suffered a big setback. So we were replacing instruments after Katrina. We're no longer being so detailed. We're willing to put money into people's pockets only to keep them afloat, "Edge remarked.
Two of Edge's guitars, including the "One," which he has played frequently on tour with U2, will be among those sold.
"It's a lovely Les Paul, and it's a music-rising Les Paul, part of a limited edition of 300."
The other is a custom-made Fender Stratocaster used to perform "Bad" and "Still Haven't Found I'm Looking For" on tour.
"They're very serious guitars that I've spent a lot of time with, and they'll be missed."
Slash, Lou Reed, Steve Miller, and Paul McCartney all donated guitars and a bass. Edge displayed a vintage photograph of McCartney playing the donated guitar in a studio as Stevie Wonder performed the drums during the interview.
"This is two of my greatest heroes in one shot, and that bass guitar will be auctioned off."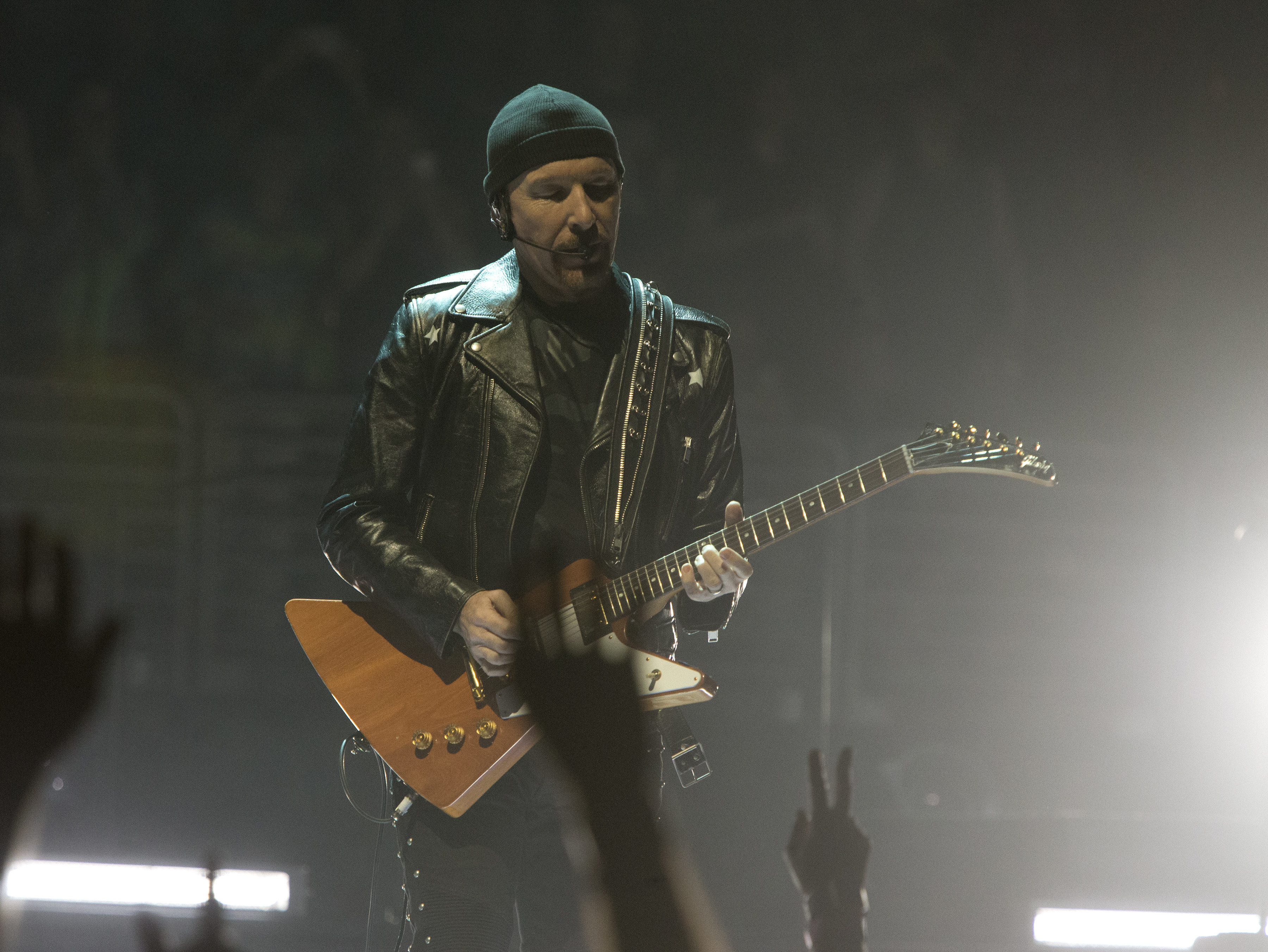 Ezrin has worked with many legendary rock artists, including Alice Cooper, Aerosmith, Pink Floyd, and Kiss. Each has contributed mementos to the auction. However, Ezrin claims that guitarist Paul Stanley had to personally look for his donation.
"Paul Stanley was going down to the warehouse to find the guitar because his guitar tech had passed away from COVID, and he had to go retrieve the guitar that he wanted to gift us," Ezrin explained.
Van Eaton Galleries in the Sherman Oaks district of Los Angeles is now displaying several of the works.
"We feel that now is a fantastic time since venues are just starting to open up again to offer these musicians the chance to get their equipment back in place and get back to playing," he added, noting that many musicians had to sell their instruments to make ends meet.
U2's Edge has stated that the band has no intentions to return to the road. That's OK with him because he was in the middle of a "songwriting and compositional" phase at the time of the lockdown and epidemic.
"I'm suffering from survivor's remorse," he admitted, "since we didn't have to cancel shows." "We didn't have anything public planned for this time. And it's simply pushed me to stay at home and concentrate on new songs, which is precisely what I needed."
He stated that when U2 does on the road, he wants to ensure that fans are secure. Other musicians, such as Eric Clapton, Van Morrison, and Travis Tritt, have fought venues' efforts to claim proof of vaccination or a negative COVID-19 test.
"It's difficult for me to understand why you're against it," he replied. While there are presently no plans for a new U2 tour, Edge stated that he hopes to do so in the future "That, without a doubt, is the way, the way we should deal with this. And I just don't see how refusing to support immunizations as a whole is logical."
Source: CTV News
Get Canada and New Brunswick News's top News, Market news, and other worldwide news only on New Brunswick Tribune.